Activity One: Double Happiness
Activity
Time:
00:00 Apr.14-23:50 Apr
.16
(PST)
Activity Range: S1 - S73
Activity Content:
Click

to enter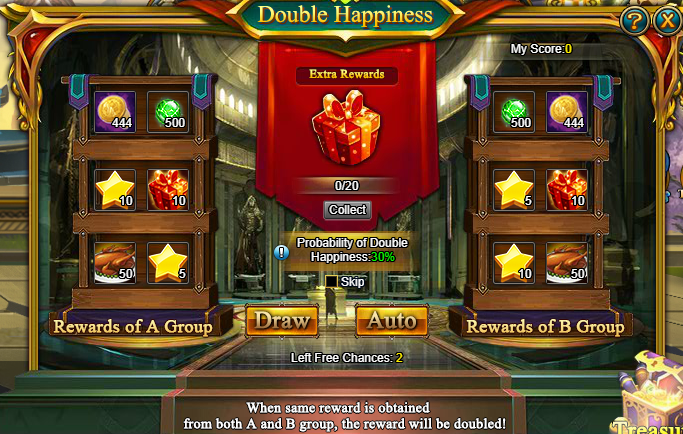 1. During the event, player can consume Gold to draw in both Group A & B to gain rewards and
scores. Scores can be used to draw in Treasury;
2. If the results of Group A & B are the same, players will gain double rewards, altogether
four rewards.
3. Drawing every 20 times will earn you the chance to collect extra special rewards like random
Dragon Soul.
4. Each player will receive two free chances every day.
5. Drawing in Treasury will consume 700 scores. Special rewards will be available when a certain
amount of score is consumed.
Special rewards include: Golden Emblem, Advanced Dragon Soul, Exclusive Title-
Wind Rage, Retinue Card: Fairy of Faerie Witch-Asteria Retinue, Eidolon: Frost Queen, etc.
When meeting the requirements, click the special rewards to unlock.

Draw for 10 times in Treasury will definitely win all rewards.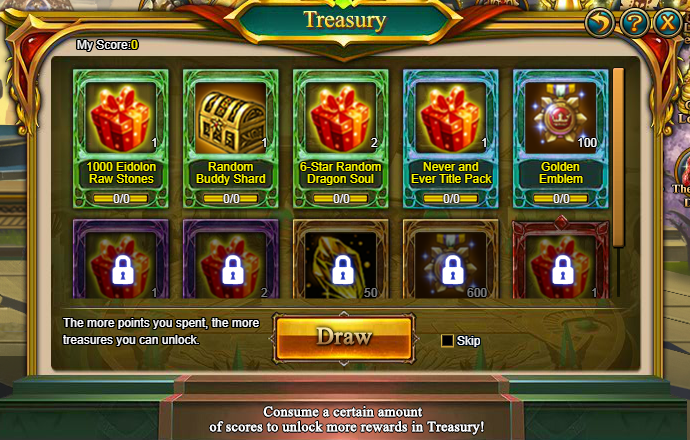 6. Left scores will be exchanged to Yellow Emblems with the ratio of 1:2 after the event.
The Yellow Emblems will be sent to you via the mail.
【Wind Rage】
【Eidolon: Frost Queen】
HP Max: 5% Deathstrike:800
Highest Level Skill: Attack affects a file, increase much Accuracy and Block this skill can't be Critical and immune rebound. And it ignore all Defense stats and skills (Except Phoenix Bless), remain 40 Rage after using.
Blade of Queen Operation Team
2018.04.14