Dear Heroes:
Blade of Queen will undergo an update for S1-S112 to improve and provide better game experience, which starts at 01:00 Dec.13 (PST). This update lasts about 15 minutes after the in-game announcement.
The update details are as follows:
【New Functions】
1. New Honor Halls Function has been added
Requirement: Unlock at Lv. 25, after completing relevant main quests
Entrance: Click Honor Palace Icon to enter:

Players can get massive rewards by completing targets in Honor Halls.
For example: Players can get 30000K Silver rewards by equipping 1 Diamantian Lv. 10(140) equipment.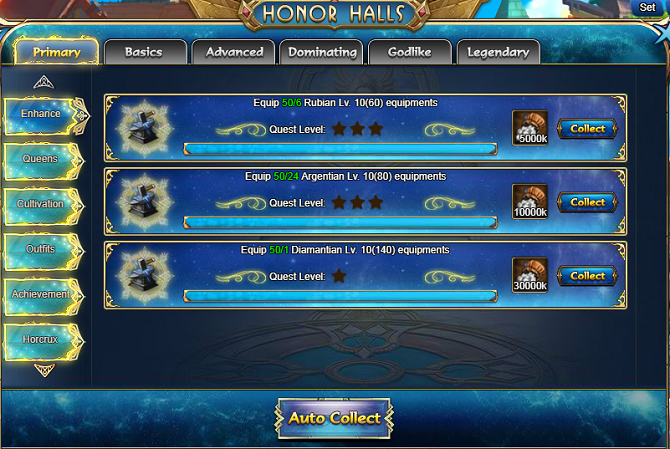 【Improvement】
1. Improve One Key Challenge in Arena, player can choose the target to challenge now.
2. Improve the Summon Stone stockpile, the Upper limit has been increased to 999.
3. Improve Function Progress, St. Antique, Nobility, Pentacle, Oracle and Faery have been added into that.
【Bugs Fixed】

1. Fixed the anomaly of All Server Ranking Display.
2. Fix the bug of Fairy Queen Rank 24 Order 10 Deicide Skill-Passive skill can't proof enchant effect from Horcrux.
Completion time may vary due to advances or delays in update.
During the update, players will not be able to enter the game, please inform each other.
We are so sorry for the inconvenience it brings about and hope you can understand!
Blade of Queen Operation Team
12/13/2018