Dear Heroes:
Blade of Queen will undergo an update for S1-S121 to improve and provide better game experience, which starts at 01:30 Feb.18 (PST). This update lasts about 15 minutes after the in-game announcement.
The update details are as follows:
【New Function】
1. New Demonized Function
Demonized can increase Buddy Battle Capacity and offer powerful Battle Mastery.
It is open for Hera only for now.
Entrance: Player can find the icon in Buddy Skill-Deicide Skill Tab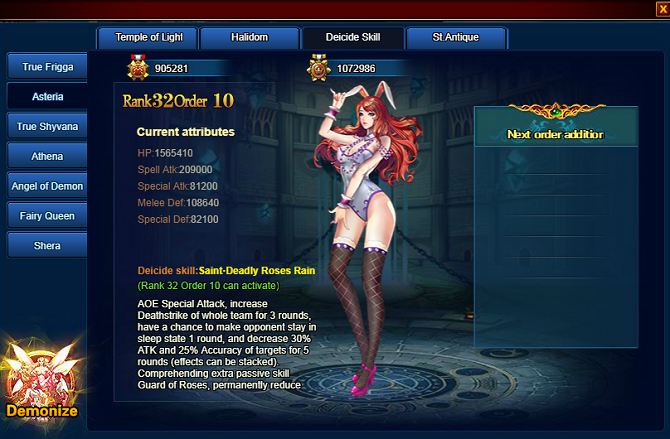 Requirement:
Buddy Deicide Skill reached Rank 32 Order 10. Buddy will turn into Demonized Buddy when upgrade star up to Rank 0 Star 1
Demonized Buddies are immune to Enchant, Confusion, Stun, Sleep, Petrifaction and Seal Effect cast by Non-Demonized Units, deal 30% more damage on them and take 30% less damage from them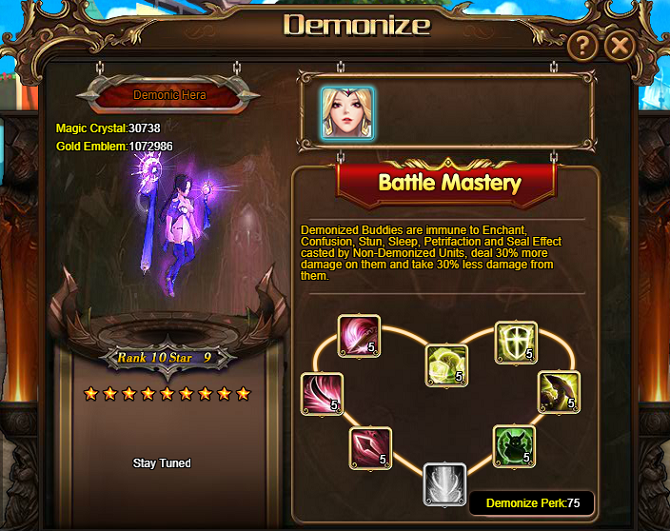 *Non-Demonized Units including: Horcrux, Oracle, Numen Arms, Pet and Buddy Non-Demonized Buddy special skill.
Demonized needs consume Gold and Magic Crystal. Upgrade Star needs to consume Golden Emblem and Magic crystal. Demonized Perk can be obtained through upgrading star and it can be used to activate & level Battle Mastery up.
*Magic Crystal can be obtained from our official activity
2. Treasure Loft
Entrance: Player can find it in Shop-Treasure Loft Tab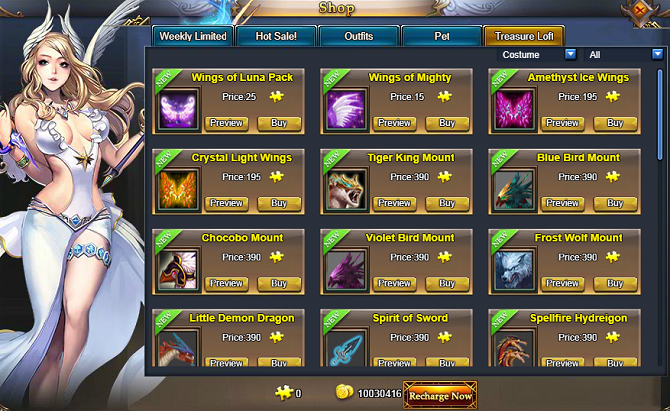 Players can use Treasure Token to purchase Outfits and Horcrux in Shop-Treasure Loft. Treasure Token can be obtained from our official activity
3. New Big Shot Match Function in Dragon Soul
Entrance: Player can find it in Dragon Soul-Big Shot Match Icon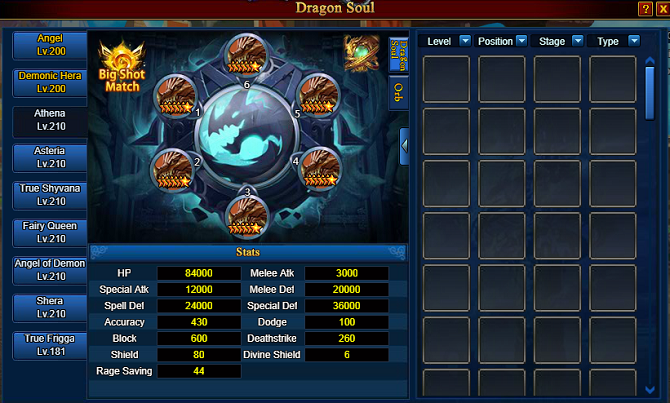 Players can choose which buddy you want to check. The Big Shot Match list refreshes at 0: 00 each Monday and the list including Top 3 of this Buddy in All Server-Buddy-BC Rank.
4. New Stage 9 Potion and Stage 10 Potion
Stage 9 Potion and Stage 10 Potion can be obtained from Official Activity.
Player who reached Vip 10 and level up to Lv. 100 can take Stage 9 Potion and Stage 10 Potion directly by spending Gold in Char-Potion Interface.
5. Hacienda Land Expansion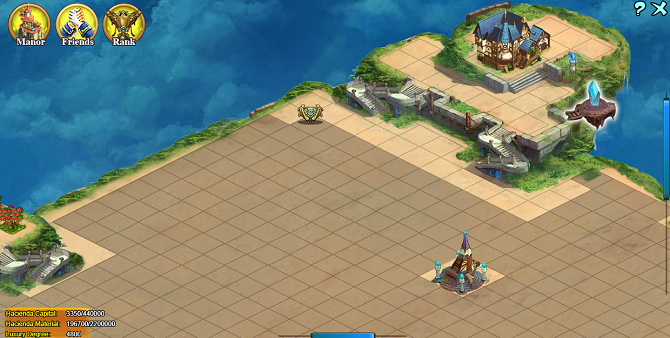 Significantly increase the area of Hacienda Land. Players can place more architectures and ornaments
【Improvement】
Improve Mount Display Interface to avoid that it can't be closed.
【Bugs Fixed】
1. Fix the bug of SSS Eidolon Display Error
2. Fix the bug that the monster level is Lv. 0 in Mirror Challenge above Lv. 205
3. Fix the Bug of Battle Report in Arrival of Deity can't be checked
Completion time may vary due to advances or delays in update.
During the update, players will not be able to enter the game, please inform each other.
We are so sorry for the inconvenience it brings about and hope you can understand!
Blade of Queen Operation Team
02/15/2019