Here is the Activity List Angel has brought this time, Come and Join!
Activity One: Free Gift for consumption!
Activity Time: 00:10 Apr.26-23:59 Apr.28 (PST)
Activity Content:
During the event, you can click the

to join.
Main interface has been updated as follows: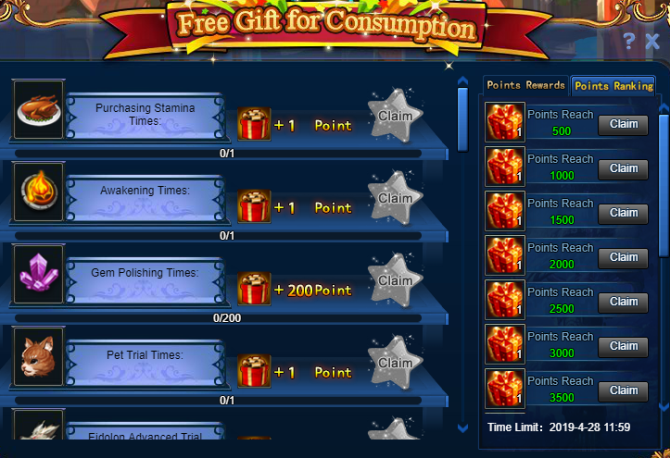 New missions are added to the activity now: Children Trial (Advanced Children Trial is calculated as 30 times), Gold Summon at Wisp, Divinity Upgrade by Gold, Purchasing Steps at Spectre Hunting Field, Purchasing Dragon Soul Challenge Times, Magic Book Synthsis and Magic Refinery.
Player can receive corresponding rewards by completing the missions to meet the relevant requirements. At the same time, player can get the points which are earned by the Mission. And there are two extra rewards: Point Rewards and Point Ranking.
When player's points reach a certain tier, they can claim the personal rewards.
After the event, Top 20 of Point Ranking's player can claim the extra corresponding Ranking Rewards which contains massive Golden Emblems.
*Rewards will be sent through email.
*Each Mission can be completed once.
Activity Two: Big Profit!
During the event, My Heroes, you can click the

to join.
Main interface as follows: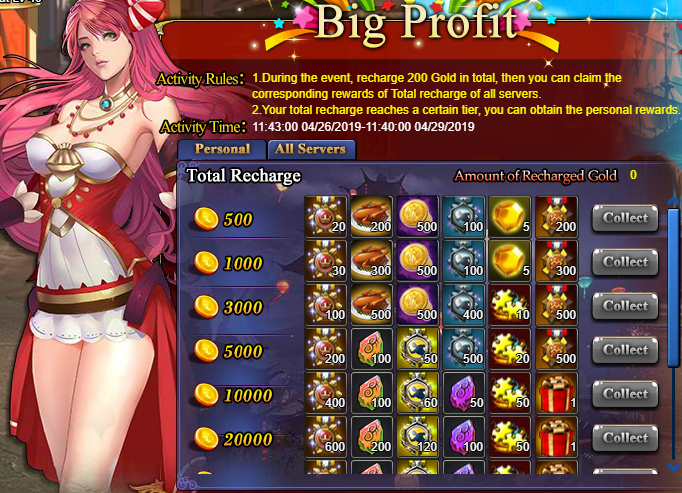 There are two kinds of Rewards: Personal Rewards and All Server Rewards.
Players, who accumulated recharge reaches a certain tier, can claim the personal rewards.
Player, who accumulated recharge reaches 200 Gold, can claim the corresponding Total Recharge Rewards All Server
*The rewards will be sent through the Mail, please claim them in time.
Personal Rewards: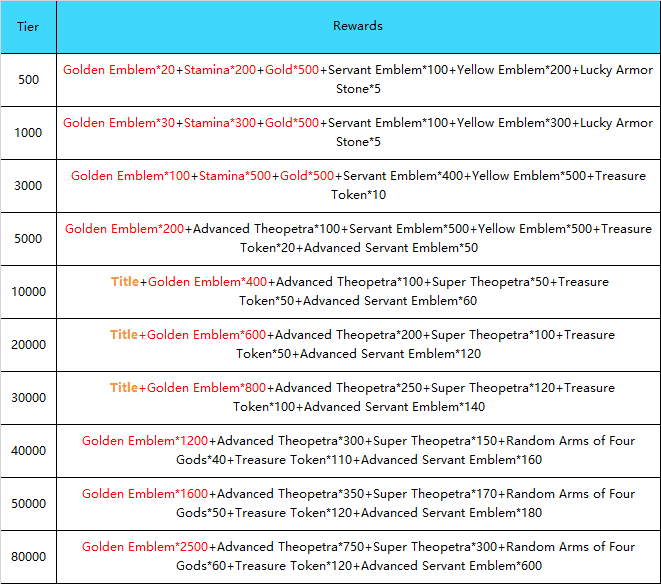 *After receiving the title, click the 【Achievements】of your profile to wear the title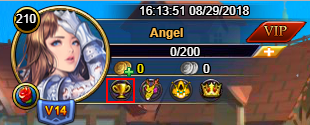 *You can only wear one title at a time,but the stats of different titles will stack
All Server Rewards: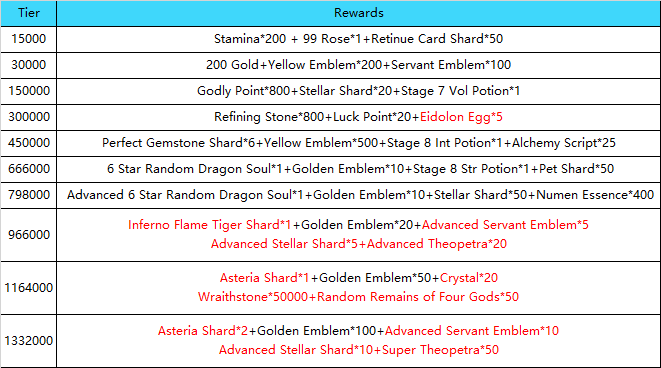 Activity Three: Dream Ladder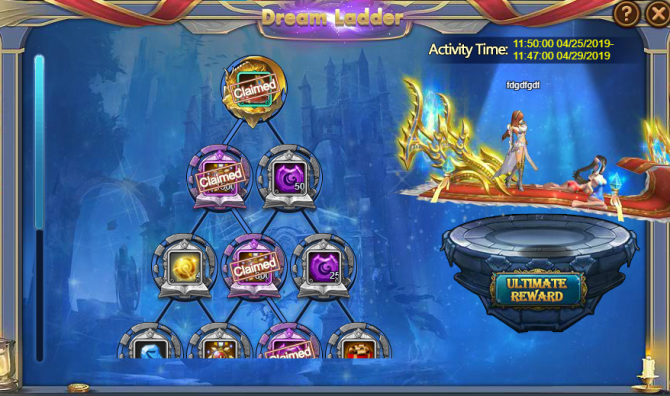 During the activity time, players who have met the recharging requirements can get various rewards:

Activity Four: Single Recharge to get massive reward
During the event, players who recharge over specified amount of Gold at a single time can click ''Special Events'' to collect rewards.
There are no limit times to collect rewards, the more you recharge, the more rewards you received. Rewards are sent according to the highest rank that players' single recharging reached, and other rank of rewards can't be claimed.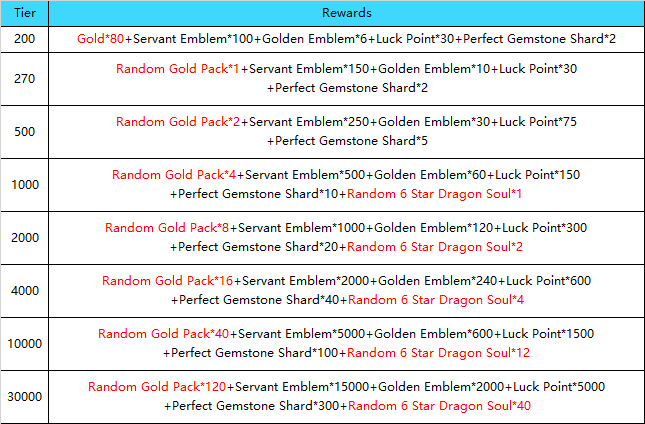 * Opening Random Gold Pack can claim 100-500 Gold.
Activity Five: Total Recharge to get massive rewards
During the event, accumulated deposit reached to certain amount of gold, abundant rewards can be acquired. Players are able to claim the rewards from ''Special Events'' after meeting the requirement.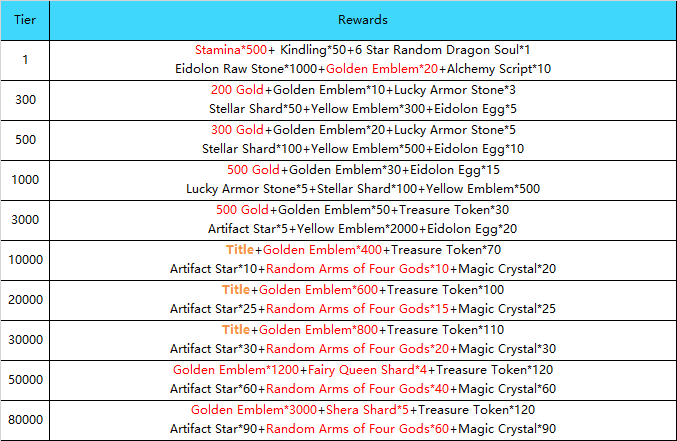 Activity Six: Spending Gold to get massive reward
During the event, Heroes who consume to specified amount can click Special Events to collect rewards.
Eg: Accumulated Consumption reaches 1000 Gold to claim rewards from 500 Gold and 1000 Gold level.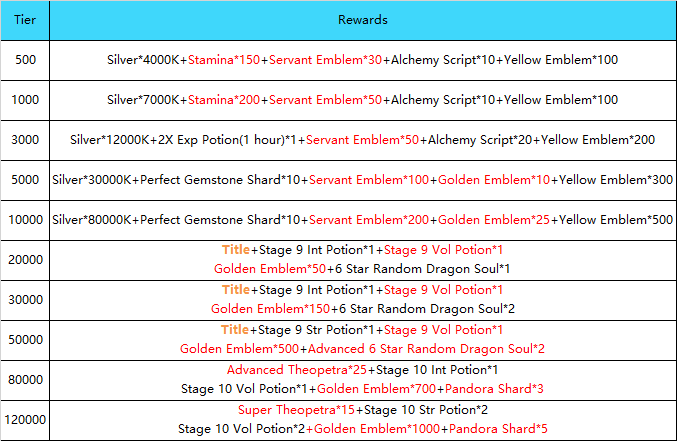 Blade of Queen Operation Team
2019.04.26