Dear Heroes:
Blade of Queen will undergo an update for S1-S134 to improve and provide better game experience, which starts at 01:00 May.23 (PST). This update lasts about 15 minutes after the in-game announcement.
The update details are as follows:
【New Function】
1. New Function of Peak Level
Unlock Requirement: Unlock at

Lv. 210

.
Entrance: Players can click

on main interface to enter.
Introduction: Peak Level is the function for players to further enhance their strength after reaching lvl 210. Initial Peak Level is

Stage 1 Star 0

. Peak Exp can be obtained through daily Mirror Challenge, Main Quest and common/Elite instances in Castle Black. Peak Exp can improve players' Peak Level, giving additional Attributes bonus. The upper limit of Peak Level is

Stage 5 Star 0

. Peak Exp of Buddies can only be obtained through instances, and will not exceed Peak Exp of the main character.
Tips:

Peak Level can only be inherited by Gold.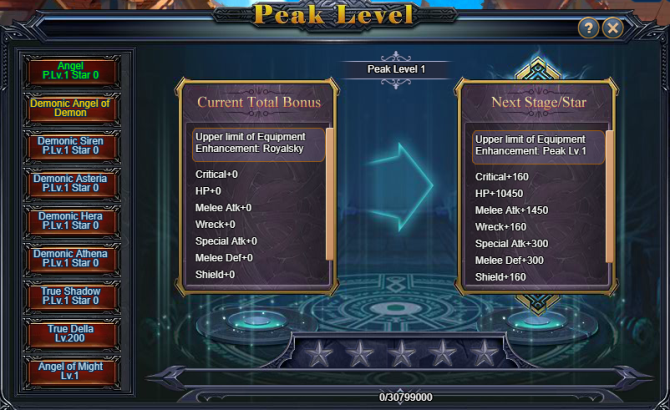 When players unlock the Peak Level, they will also unlock the Peak Equipment, which increases the upper limit of the Equipment Enhancement Level. The materials and scrolls for making the Peak Equipment will be obtained from new common/Elite instances, respectively.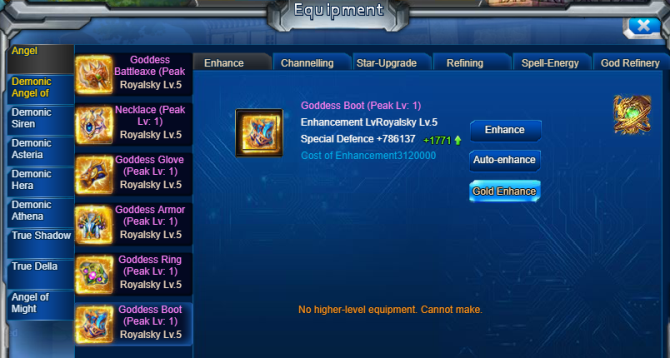 2. New Function of Peak Cultivate
Peak Cultivate is the high-level cultivation for characters after unlocking the Peak Level. According to the different Peak Level, Peak Cultivate is also divided into four stages.
a)
Peak Level

Stage 1 Star 0

: Unlock Strength, Volition and Intelligence.
b)
Peak Level

Stage 2 Star 0

: Unlock Accuracy, Deathstrike, Block, Critical, Dodge, Wreck, Shield and Resistance.
c)
Peak Level

Stage 3 Star 0

: Unlock Stun Accuracy, Enchant Accuracy, Stun Proof and Enchant Proof.
d)
Peak Level

Stage 5 Star 0

: Unlock Invisible, Anti-Invisible and HP
Peak Cultivate can be achieved by consuming Peak Stone or Gold, and Peak Stone can be obtained through official activities.
3. New Exp Mall is added
Unlock Requirement: Unlock at

Lv. 210

.
Entrance: Players can click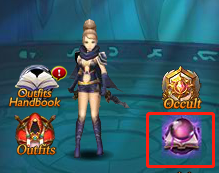 on Char interface to enter.
Introduction: The Main Character/Buddies can exchange Attributes using Exp beyond Level 210 at Exp Mall. The Attributes exchanged will immediately add to the corresponding Main Character/Buddies. Each Attributes Combination has a upper limit of exchanges.
Tips:The Attributes exchanged will not apply to the inheritance of Buddies.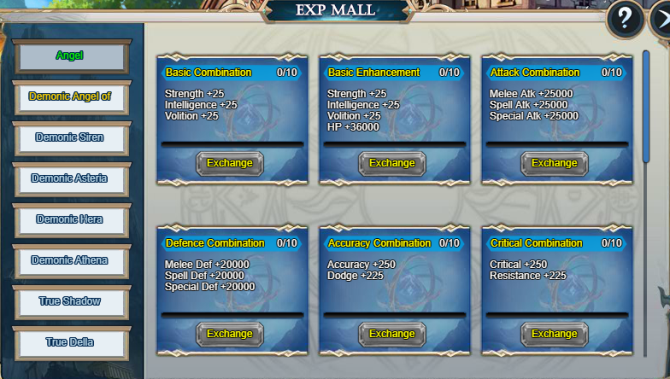 4. New Games of Queens Garden
New bullet screen game is added to Date with Goddess. When players enter Date with Goddess, there will be a small probability of encountering the bullet screen game. The game has 10 waves to send out star bullets from outside the map. And stars will spread in the garden while players need to avoid them. Successfully avoiding all the stars in 10 waves is victory and can get the Goddess Gift.
Tips:

The game is a little difficult and won't consume Garden Keys when fail.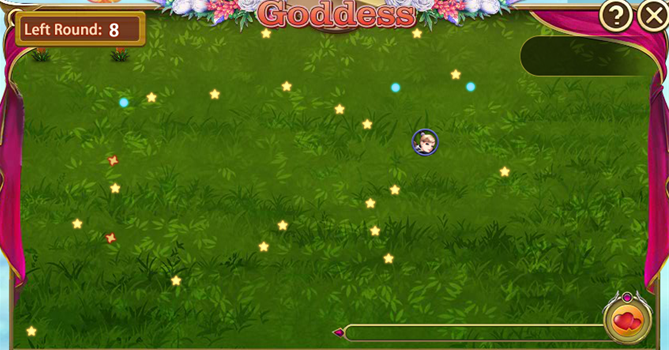 【Improvement】
1. The display of Star level of Sacred Gear is added. Players can see the highest Star level of Sacred Gear in the page of Dark Slate.
2. Pet Polish rules are optimized. When Pet Polish fails 9 times in a row, the 10th time must succeed and the number will be reset.
3. Increase the resurrection times of demonic Buddies in Demonized Expedition. When demonic Buddies die, they can be resurrected free once.
4. Description of purchase times of Dragon Trial Challenge in VIP privileges is added.
【Bugs Fixed】
1. Fixed the bug that battle reports could not be opened in some cases.
2. Fixed the bug that the details of the team were not fully displayed and some team's avatar display abnormally in Team Fight.
Completion time may vary due to advances or delays in update.
During the update, players will not be able to enter the game, please inform each other.
We are so sorry for the inconvenience it brings about and hope you can understand!
Blade of Queen Operation Team
05/23/2019