Dear Heroes:
Blade of Queen will undergo an update for S1-S135 to improve and provide better game experience, which starts at 01:00 May.30 (PST). This update lasts about 15 minutes after the in-game announcement.
The update details are as follows:
【New Function】
1. New SSS Eidolon-True Frost Queen
In Ascendant Tower, players can use Eidolon Essence and Ascendant Orb to upgrade Frost Queen to True Frost Queen. (Frost Queen need to level up to Lv.50)
Special Skill of True Frost Queen will be promoted massively when it reaches highest level. Here is the description:
Launch a vertical attack on the enemy, reduce the target's current HP by 50% and prevent units hit by the skill from recovering health for 3 turns, while increasing its Accuracy and Block largely. The skill can't be Critical and is immune to rebound effects. And it ignores all damage-reduced Defense stats and skills (Except Phoenix Bless). Remain 50 Rage after using.
*Ascendant Orb can be obtained from our official events.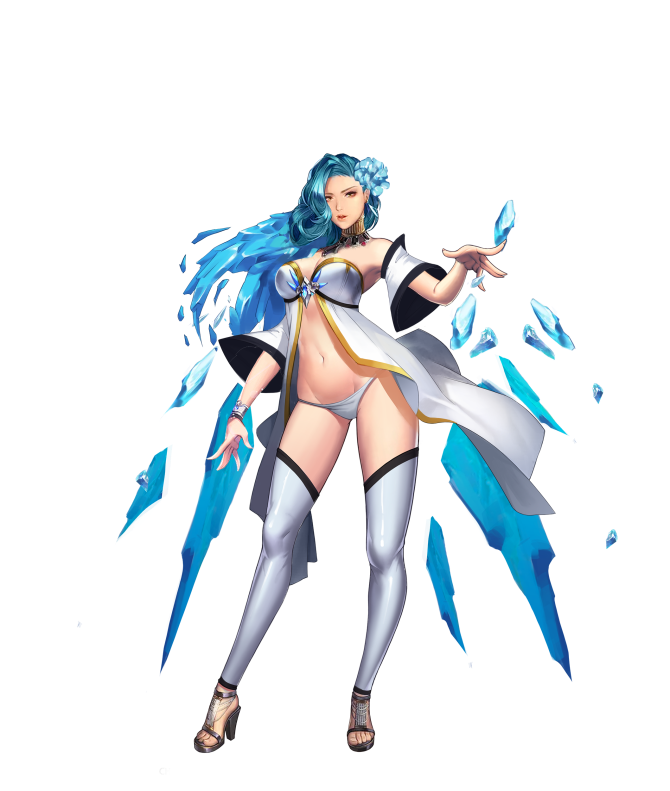 2. New Function of Clash of Teams
Unlock Requirement: Unlock at Lv. 20.
Entrance: Players can click on Daily Activity to enter.
Activity Time: 19:30-20:30 (Server Time) (Open alternately with the Faction War)
19:30-20:00 is registration time, unable to match battles. 20:00-20:30 is time for matching battles (while players can also sign in).
Function Introduction: Clash of Teams is the daily activity of teaming up and battling among players in the Sanctuary.
Rules: During the activity, players can form a team of up to three players by inviting friends, Guilds or sending invitations at Sanctuary channel, and then register (Single or double-players teams can also register). Team cannot change its members or be dismissed after registration.
In a multi-player team, all team members have to be ready before the captain can register the competition. The Captain is who create the team and can't be changed.
Tips:Team members will leave the team automatically when they are offline, and team will be dismissed when the Captain is offline.
There will be 20 seconds CD between matches.
Rank mechanism: Player's initial score is 500 points. Increasing every 100 points will improve one Rank, the highest is the Challenger.
Reward Distribution: After the competition, system will send active rewards of 5/10/20 cumulative successful matches. According to the highest score that the team has achieved in the competition, its members will get score rewards of the corresponding Rank.
Rankings will be updated at 24:00 on the day of each competition.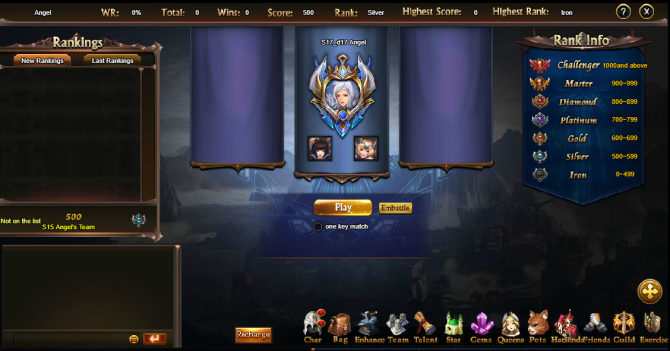 3. New function of General Mobilization of Guild
Unlock Requirement: Unlock at Guild Lv 1.
Entrance: Players can click

in Guild Activity to enter.
Introduction:
Players can accomplish specific tasks in the General Mobilization of Guild to obtain personal Merit Points which can be used to exchange items in the shop.
The personal Merit Points of Guild members will be counted into the Guild Merit Points. When Guild Merit Points reaches a certain value, all members of the Guild will receive corresponding rewards. (Guild tasks and Guild Merit Points will reset at 0:00 every day.)
Tips: If the player leaves the Guild, personal Merit Points will be cleared, please be careful.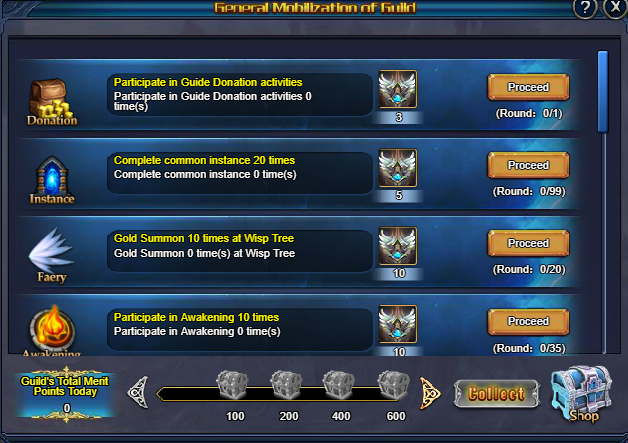 4. New Oracle Support System
When players have more than one Oracle, they can use Gold, Oracle Bells and Oracle Flutes to unlock the support slots and select multiple Oracles on battle at the same time. Different numbers of Oracles on battle will trigger different Oracle support effects.
The specific effects are as follows:
a) Selecting one Oracle on battle can summon one by chance;
b) Selecting two Oracles on battle can summon 1-2 by chance;
c) Selecting three Oracles on battle can summon 2 by chance;
d) Selecting four Oracles on battle can summon 2-3 by chance.
Tips: Only when Oracles reach 1 Rank 1 Star can they go on battle. Multiple Oracle Skills can be triggered in one round when selecting multiple Oracles on battle.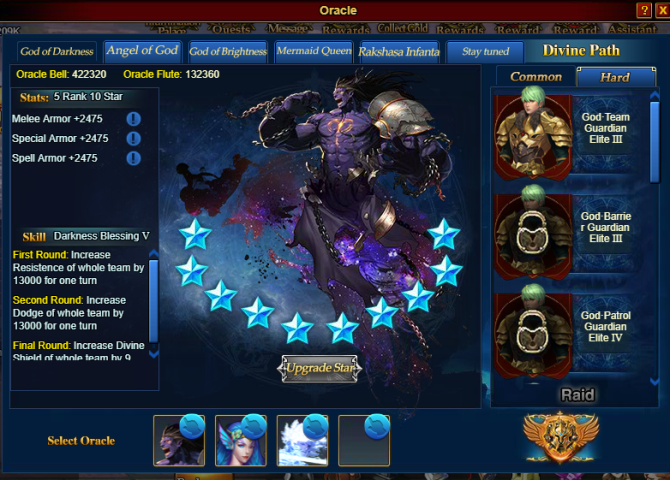 【Improvement】
1. New damage reduction effect of Boss in the Spectre Hunting Field is added. When the damage reduction effect exists, the damage dealt to Boss decreases in a certain proportion. The effect declines with the increase of battle time.
2. New display of Children's BC and Attributes.
3. New weekly rewards for cumulatively completing Advanced Trial.
4. New item-Power of Dragon Soul is added, which can be swallowed by Dragon Soul to increase the its experience largely. The item can be obtained from our official events.
Completion time may vary due to advances or delays in update.
During the update, players will not be able to enter the game, please inform each other.
We are so sorry for the inconvenience it brings about and hope you can understand!
Blade of Queen Operation Team
05/30/2019