Dear Heroes:
Blade of Queen will undergo an update for S1-S137 to improve and provide better game experience, which starts at 01:00 June.13 (PST). This update lasts about 15 minutes after the in-game announcement.
The update details are as follows:
【New Function】
1. New Function of Children Aureole
Unlock Requirement: Unlock when Main Quest of Lv.65 is completed and Potential of the Children reaches 300.
Entrance: Players can click

on Children page to enter.
Introduction: Aureole is the function exclusive to Children. Different Aureoles have different skill effects. Aureole Effect will be triggered when Children join the battle. Aureole is Lv.0 when it's unlocked, and player can put Luck Points into the Aureole to increase its upgrade progress. Aureole skill will be activated when it reaches Lv.1. The skill effect and attributes are enhanced with the upgrade of the level (up to 3 Aureoleskills can be selected in battle at the same time).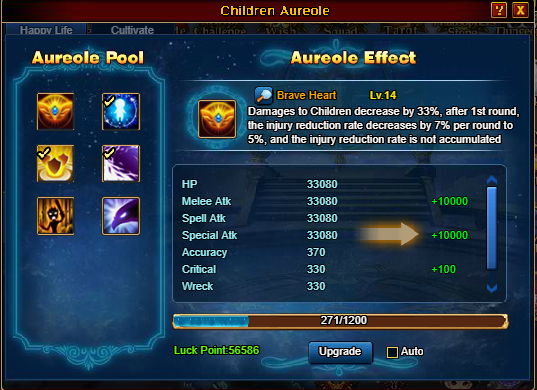 2. Increase the Level Cap of Oracle and Horcrux
Level cap of the God of Brightness and Mermaid Queen is increased to 10 Rank 10 Star. Upgraded Oracle skills can be applied to Demonic Buddies.
Some Battle Horcrux upgrades are opened, and upgraded skill effects can be applied to Demonic Buddies.
3. The fifth page of Glory Halls 'Godlike' is opened.
Players can preview the tasks on the fifth page of Glory Halls. The fifth page 'Godlike' will be unlocked after all the tasks on the fourth page 'Dominating' have been completed.
【Improvement】
1. Optimize the problem of the game lag during the Clash of Teams.
2. Optimize the page of Eidolon Learning Skills. Players can directly choose Skills to learn (Skill Tokens will be consumed when Skill Books are not enough).
3. Optimize the competition time of Honor Ladder in The One by changing from 12:00-14:00 & 20:00-22:00 to 12:00-14:00 & 19:00-21:00.
【Bug】
1. We've fixed bug that players encountered black screen and log-in problem in some cases.
Completion time may vary due to advances or delays in update.
During the update, players will not be able to enter the game, please inform each other.
We are so sorry for the inconvenience it brings about and hope you can understand!
Blade of Queen Operation Team
06/13/2019