Dear Heroes:
Blade of Queen will undergo an update for S1-S146 to improve and provide better game experience, which starts at 1:00 Aug.16 (PST). The update lasts about 15 minutes after the in-game announcement.
The update details are as follows:
【New Function】
1. New Function of Guild Instance
Unlock Requirement: Unlock when Guild reaches Lv. 4
Entrance: Click

in Guild Activity to enter.
Introduction:
1) There're 20 Chapters in Guild Instance, each with a Boss whose HP is shared by Guild members. Players can challenge the next Chapter after defeating the Boss of current one.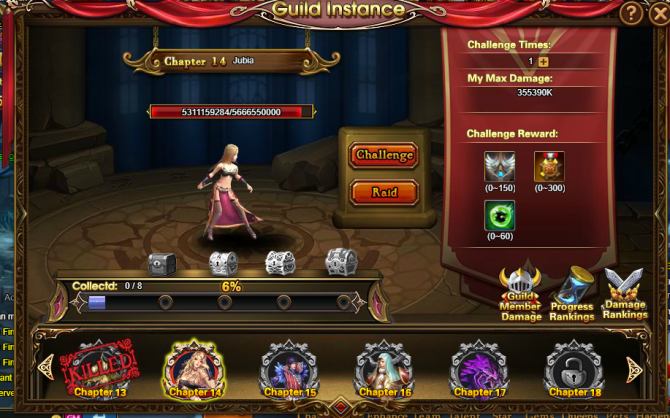 2) Guild Instance is reset at 0:00 every day. The progress will be reset to the highest Chapter that has been challenged the day before -1
3) Guild members have two free chances to challenge every day, and can buy additional challenges.The more challenge times are purchased, the more Gold it cost. Up to 8 purchases per day.
4) Guild members can raid the Chapter after they have challenged the Chapter. The damage by raiding is the highest damage the player has dealt at the Chapter in history (reset daily).
5) There are 4 progress treasure boxes at each Chapter. When the Boss HP is 75%/50% /25%/0%, Guild members can collect the corresponding treasure box. Each member can collect 8 progress treasure boxes every day, and the treasure box of the same progress can only be collected once.
6) Guild Instance has 3 Rankings including Guild Member Damage Rankings, Sanctuary/All Server Progress Rankings and Sanctuary/All Server Damage Rankings.
2. New Function of Icon Crush
Unlock Requirement: Unlock when reaching Lv. 10
Entrance: Click
in Daily Activity to enter.
Introduction:
The activity is a 24-hour daily activity. After starting the game, when two identical magic stones are connected and the connection lines are no more than 3 straight lines, two magic stones can be successfully eliminated (players can also spend 1000 Gold one-key eliminating). Each elimination of two identical magic stones will gain certain points. Points can be exchanged for precious items in the exchange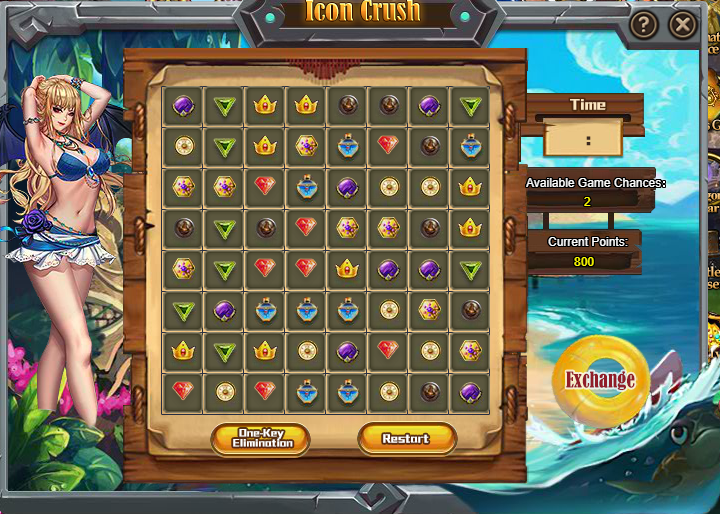 Chance acquisition:
Players can get one chance to play by logging in the game every day, and then every half an hour online to get another one, up to five chances a day. Chance will be reset to 0 at 0:00 every day.
【Improvement】
1. Optimize the loading of battle report resources, speeding up the open of battle report.
2. Reminder of exchange times in Battle Chasers is added to To-Dos.
3. Reduce the display time of in-game announcements.
【Bugs Fixed】
1. Fixed bug that Buddies can use Eidolon skills in some cases.
2. Fixed bug that Thunder brought by Battle Soul could deal damage to the World Boss.
3. Fixed bug that the target with high Melee Armor will undertake much more damage from Melee Attack than Special Attack.
Completion time may vary due to advances or delays in update.
During the update, players will not be able to enter the game, please inform each other.
We are so sorry for the inconvenience it brings about and hope you can understand!
Blade of Queen Operation Team
08/16/2019