Version Update at 1:00 August.24 (PST)
Dear Heroes:
Blade of Queen will undergo an update for S1-S148 to improve and provide better game experience, which starts at 1:00 August.4 (PST). The update lasts about 15 minutes after the in-game announcement.
The update details are as follows:
【New Function】
1. Add Buddy Training
Unlock Requirement: Unlock when Main Quest of Lv.120 is completed.
Entrance: Click Buddy Training on the main interface to enter

Each training can increase corresponding attributes of the buddy randomly by percentage. Mystery Stones and Star Stones obtained by Buddy Expedition can be used for Buddy Training.
Buddy Training is divided into Buddy Expedition, Buddy Training, Training Overview and Training Transfer
Click here to check the details of Buddy Training:https://boq.coco2games.com/article/get_content/1795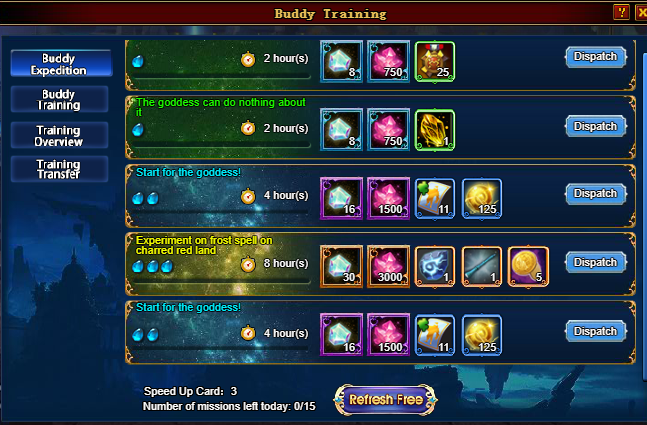 2. Add Source of Dragon Soul – Dragon Bead
Source of Dragon Soul offers power to Dragon Soul and it produces powerful Dragon Bead that can add massive attribute bonus to Dragon Soul.
Unlock Requirement: Unlock together with Dragon Soul when Main Quest of Lv.95
Entrance: Click Dragon Soul on the main interface to enter

Every main character/buddy has 6 dragon bead slots that are corresponding to 6 dragon souls in corresponding slot. Players need to consume Gold to unlock the slot. Dragon bead in every different slot has its different attributes. Players can hover the Mouse on the slot to check details of dragon bead's attributes.
After unlocking the slot, players can obtain a dragon bead that offers 2 divided attribute bonus
1) Dragon bead has its own various attributes that can be upgraded by consuming dragon soul or power of dragon soul.
2)It can add attributes bonus to dragon soul in corresponding slot and its own attributes bonus in the rate of percentage. The initial rate of percentage will be 10%, the maximum will be 40%. The rate of percentage of dragon bead can be upgraded by consuming soul orb.
* Soul Orb can be obtained from official events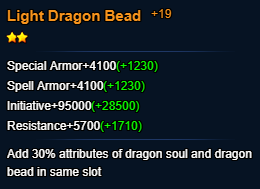 The Figures in green means the attributes bonus from dragon bead.
Six dragon beads equipped by same main character or buddy in certain stage can activate Dragon Bead Resonance.
* Dragon bead equipped by main character or buddy is independent.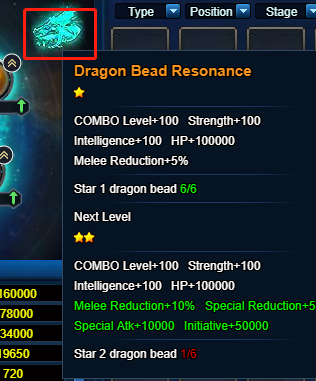 3. New upgrade of Guild
Now Guild is divided into 6 areas:
1) Main City: Enter to check details of the Guild;
2) Council Chamber: Includes Guild Sign-in, Guild Merchant, Donation Activities and Guild Tarot;
3)Assembly Zone:Click to enter assembly zone and join in the Guild Wheel of Fortune and find Guild Merchant
4)Amphitheater:Includes Guild Boss、Guild Instance、Guild War and Monster Invasion
5)General Mobilization of Guild: Click to open General Mobilization of Guild
6)Sacred Tree: Click to open Guild Sacred Tree
4. Add More Blueprint in Hacienda Handbook Ornament
Now players have more Blueprints choices and some Blueprints has lower prices after adjusting.
【Improvement】
1. Add one-key upgrade for Faery Skill, Enlightening Stone in Eidolon, Children skill, Children Aureole (Unlock at VIP 6)
2. Improve the visual pattern of gemstone star level
3. Improve the visual effects of button as entrance of batching wearing buddy attributes titles in Achievement
Bugs fixed:
1. The Merit Points shows 0 in the guild.
2. It should show Damage Ranking Pack of sanctuary and all servers in Guild instance, but wrongly showed the Points Ranking Pack from Buddy Popularity Competition.
3. The battle report showed abnormally.
4. The abnormal Gold spending amount in Guild Instance during the challenge times purchase.
Blade of Queen
2019/08/24