Dear Heroes:
Blade of Queen will undergo an update for S1-S152 to improve and provide better game experience, which starts at 03:30 Sep.20 (PST). The update lasts about 15 minutes after the in-game announcement.
The update details are as follows:
【New Function】
1. New Oracle-Capricorn Queen
Capricorn Queen can boost the effect of attributes such as COMBO Level and COMBO Increase.
When Capricorn Queen is upgraded to the highest Rank, the skill effect is as follows:
【Spell of Oracle IX】
First Round: COMBO Level of all allies in 3 rounds+6300
Second Round: COMBO Increase of all allies in 2 rounds+50%
Third Round: Critical and Deathstrike of all allies in 1 round+6000
2. New Function of Altar of Immortal
Unlock Requirement: Unlock when Main Quest of Lv.180 is completed.
Entrance: Click central icon in Dragon Altar to enter.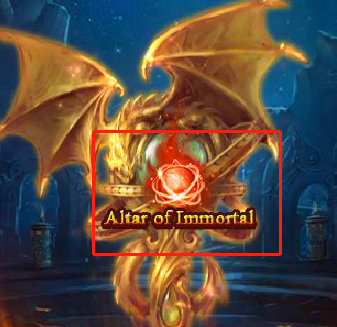 Introduction:
1) Altar of Immortal are divided into 8: Excalibur Altar, Hurricane Altar, Ultra-Cold Altar, Ultra-Hot Altar, Thor Altar, Curse Altar, Ice Phoenix Altar and Annihilation Altar.
2) Only when the percentage of Dragon Altar reaches a certain value can the corresponding Altar of Immortal be activated. Activating Altar of Immortal needs to consume Covenant Points and Power of Altar
* Power of Altar can be obtained from official events.
3) When the Altar of Immortal is activated, a main character/buddy can be selected to place on it. And the corresponding passive effect will be triggered when attacking the enemy in battle. (Some passive effects don't apply to Boss)
* Each Altar of Immortal can have only one main character/buddy; each main character/buddy can have only one passive effect at the same time.
3. New Function Raid in Assistant
Entrance: Click icon on the main interface to enter Function Raid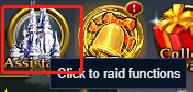 Introduction:
1) Function Raid in Assistant can help players automatically complete all kinds of functions and save a lot of time spent on each function, such as one-key Sign In, one-key consume all the free challenges in Magic Refinery, etc.
2) Players can check the functions they want to complete with one click, and by default all the functions are checked.
* Special attention should be paid to the functions like Pet Trial and Awakening. All the Pet Trial Stones and Kindlings will be consumed when raiding functions. The mode of auto-completing is consistent with the settings of Auto-Train/Auto-Ignite in this function.
3) Hovering the mouse over the function names allows you to check the specific rules for raiding.

4) Check 【Always retain results of raiding】 and the detailed raiding results will still be retained after closing the page. Otherwise, after closing the page, all the information of this raiding will be cleared.
* Make sure there is enough space in your Bag to pick up rewards before raiding. When the player's Silver/Gold and other resources are insufficient, it will automatically skip the functions that need to consume the corresponding resources.
4. New Function of Points Overview
Entrance: Click icon of Resource Overview beside the Avatar to enter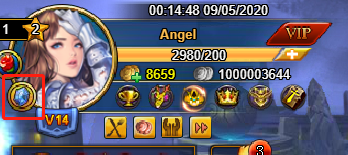 Players can see the overview of their points in each function in this interface. Hover the mouse over the icon on the right, and you can check the rewards that can be exchanged in this function.
Click on the icon on the right to jump directly to the corresponding function exchange store.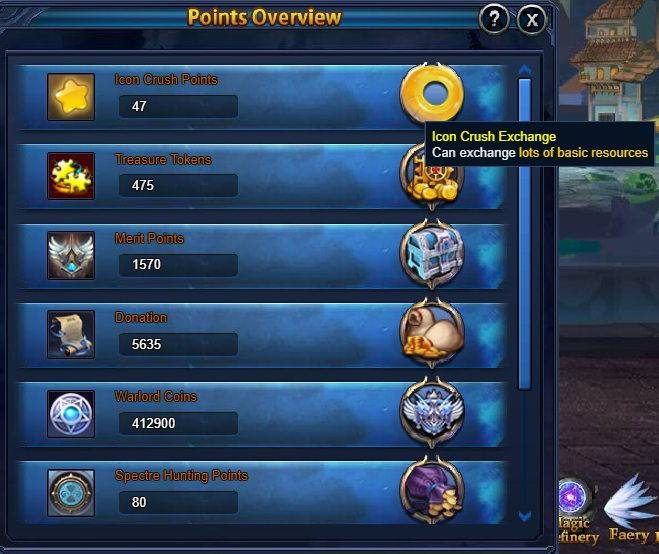 【Improvement】
1. When enhancing Dragon Soul with Silver, the detection of the number of Silver is added: only the Dragon Soul/Power of Dragon Soul that can be supported by the current number of Silver will be selected to enhance.
【Bugs Fixed】
1. Fixed bugs in some cases where attributes such as Enchant, Stun, Enchant Proof and Stun Proof did not work.
2. Fixed bugs that attributes didn't take effect in battle when Enlightening Stone of Eidolon was at Rank 1.
3. Fixed the bug of anomaly of the number of Speed Up Cards.
Completion time may vary due to advances or delays in update.
During the update, players will not be able to enter the game, please inform each other.
We are so sorry for the inconvenience it brings about and hope you can understand!
Blade of Queen
2019/09/20