Dear Heroes:
Blade of Queen will undergo an update for S1-S154 to improve and provide better game experience, which starts at 22:00 Oct.10 (PST). The update lasts about 15 minutes after the in-game announcement.
The update details are as follows:
【New Function】
1. Magic Temple
In Magic Temple, players can upgrade magician level and collect Magic Runes to get a lot of attribute bonuses and largely increase battle capacity of team.
Unlock Requirement: Unlock at Lv. 56 after completing Main Quest.
Entrance: Click icon below the Avatar.

Introduction:
【Magician Level】
1) Magician Level is divided into several stages and star level. Each stage has 5 star levels and can be upgraded by acquiring Magic Proficiency. Attribute bonuses can be obtained when upgrading each star level.
2) When reaching 5 star in each stage, players can consume an amount of Gold and Golden Emblems to unlock next stage.
3) Completing 【Today's Mission】 can acquire Magic Proficiency, which refresh at 00:00 every day. (Players can also spend Gold to buy Magic Proficiency).
* The attribute bonuses provided by Magician Level only apply to main character.
Magician Level

Stage

Magic Apprentice

Magic Apprentice

Sorcerer

Junior

Intermediate

Senior

Wizard

Junior

Intermediate

Senior

Archmage

Junior

Intermediate

Senior

Magic Master

Junior

Intermediate

Senior
4) The color of nickname in chat box will change when the player upgrade to the next stage, as the figure above shows. The color display can be closed in the Settings.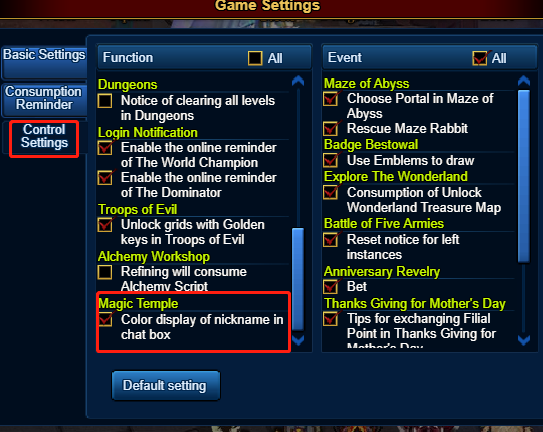 【Magic Rune】
a. Magic Rune Slot
1) Left side of the Magic Temple interface is the area for equipping Magic Runes, with two slots unlocked at the beginning. Players can unlock more slots by upgrading magician level.
2) The slots are divided into outer ring and inner ring. The outer ring can only be equipped with Runes of A and S qualities, while the inner ring with Runes of SS and SSS qualities.
3) Multiple Runes of the same attribute cannot be equipped in inner or outer rings at the same time. Only one in the inner and one in the outer rings.
* E.g. SS and SSS Magic Runes both with Invisible attribute cannot be equipped in inner ring at the same time, while S and SSS Magic Runes both with Invisible attribute can be equipped in outer and inner rings respectively at the same time.
* The Magic Runes of main character/each buddy are independent of each other.

Hover the mouse on the slot to check the unlocking requirement
b. Rune Quality
Magic Runes are divided into four qualities: A, S, SS and SSS, with different attributes.
Runes of SS and SSS qualities can provide percentage bonus for some attributes.
c. How to Acquire Rune
Click on the 【Acquire 】button to enter the Rune acquisition interface.
Players can spend 100 Gold draw once, with a 10% discount for 10 consecutive draws. At least one SS Magic Rune can be obtained for every 50 draws and at least one SSS Magic Rune for every 100 draws.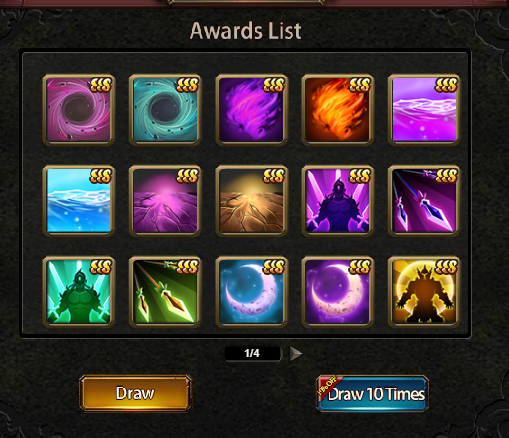 d. Rune Synthesis
Click on the 【Synthesize 】button to enter the Rune Synthesis interface.
Three Runes of the same quality can be synthesized into new Rune of the same or one-level-higher quality.
【One-Key Synthesize】 will automatically select qualified Runes to synthesize according to the order of the Runes in the bag.
2. New Battle Soul Rankings
Battle Soul Rankings will be ranked by the BC of Battle Soul.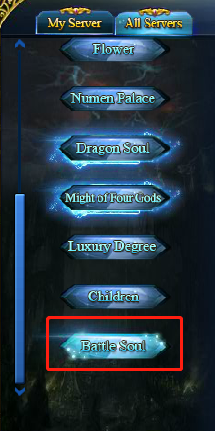 【New Event】
New event 【Pirate Treasure Hunt】 exclusive for Columbus Day

Activity Time: 10.11-10.14
For more detail, please pay attention to following activity introduction.
【Improvement】
1. Optimized the display of Formation interface, and added new Oracle formation and links to some functions.
2. Optimized the description of some text in the Tavern.
【Bugs Fixed】
1. Fixed the bug that the item was not acquired after exchanging for Steel Wargod Mount in The One.
2. Fixed the bug of some text errors in Guild Sacred Tree.
Blade of Queen Operation Team
10/10/2019