Dear Heroes:
Blade of Queen will undergo an update for S1-S155 to improve and provide better game experience, which starts at 01:00 Oct.18 (PST). The update lasts about 15 minutes after the in-game announcement.
The update details are as follows:
【New Function】
1. New Function Opening Preview and Privilege Card
Unlock Requirement: Unlock at Lv. 10 after completing Main Quest.
Entrance: Click icon

on the main interface to enter
Introduction:
Function Opening Preview is a guidance on the upgrade way of players. Players can view the opening requirements of some functions and collect additional rewards when completing the corresponding function tasks after unlocking the functions.
Privilege Card: The activity rewards are divided into function rewards and privilege rewards. The function rewards only require complete the tasks, while the privilege rewards need to purchase the privilege card in addition to get.
Tips: the Privilege Card is sold in the form of gift pack, which can only be purchased in this page, and is not included in other recharge events.
2. New Sacred Gear Exchange and Oracle Exchange
Unlock Requirement: Unlock with the function Dark Slate or Oracle.
Entrance: Click icon

on the interface of Dark Slate or Oracle to enter
Introduction: Players can exchange Sacred Gear Shards or Oracle Shards for corresponding items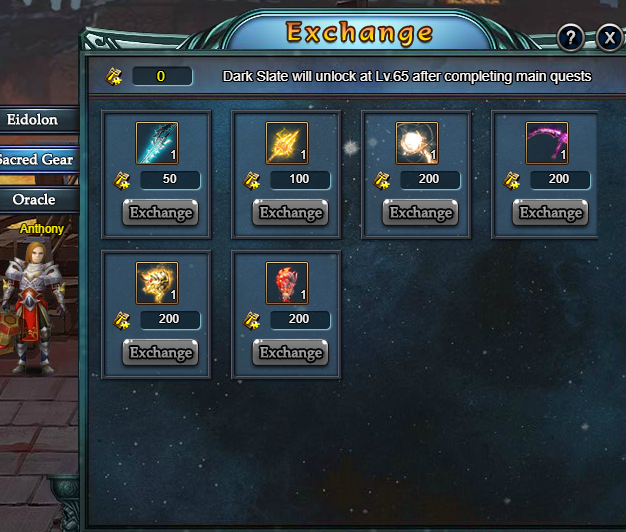 Tips:Sacred Gear Shards and Oracle Shards can be obtained in official events
【Improvement】
1. The different types of mines are partitioned in Miracle Mine.
2. Elite Instance is removed from the Function Assistant feature.
【Bugs Fixed】
1. Fixed bug that the max total chances of Icon Crush is less than 5 in some cases.
2. Fixed bug that players can't send message on world channel in some cases.
Completion time may vary due to advances or delays in update.
During the update, players will not be able to enter the game, please inform each other.
We are so sorry for the inconvenience it brings about and hope you can understand!
Blade of Queen
2019/10/18